| | |
| --- | --- |
| | Makaravilakku |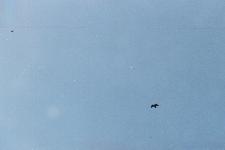 Krishnapparunthu at the start of Thiruvabharanam procession at Pandalam 
The Thiruvabharanam which starts from Pandalam on 28th Dhanu , after scheduled halts at Ayroor-Puthiyakavu and Laha , reaches Saramkuthi on the third day evening (1st Makaram) and is ceremonially escorted to the sanctum sanctorum.
When the Sreekovil opens for 'deeparadhana' , the Lord is seen in all His divine splendor, adorned with the jeweled gold ornaments .At the distant eastern hilly horizon , the light of 'jyothi' appears to the immense satisfaction of the thousands of devotees who have thronged to the temple to pay obeisance to the Lord. The occasion is also marked by the divine appearance of the 'star' in the eastern sky and the hovering 'krishnapparunthu' far above the temple. This marks the grand finale of the two-month period to the Sabarimala pilgrimage.

The Raja of Pandalam who stayed back at Pampa on 1st Makaram arrives at Sabarimala on 3rd Makaram.Devotees continue to arrive in large numbers for 'darshan' of the deity adorned with the holy ornaments and to obtain the blessings of the Raja. 'Darshan' on the morning of 7th Makaram is exclusively restricted to the Pandalam Raja, after which the temple will be closed and the Raja returns to Pandalam , taking the Thiruvabharanam with him.
Best Viewed with Internet Explorer 4.0 or Netscape Navigator 4.5 or Above.
Unauthorized copying is strictly prohibited.