| | |
| --- | --- |
| | Pandalam Raja At Sannidhanam |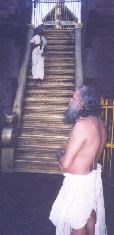 The Raja - the last person to climb down Pathinettampadi
The Raja of Pandalam accompanying the 'Thiruvabharanam' stays at Pampa on the Makaravilakku day (1st Makaram). He reaches Sabarimala on 3rd Makaram. Devaswom officials escort the Raja from Saramkutthi to Pathinettampadi in a procession.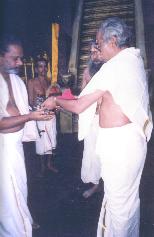 Raja handing over key of the Sreekovil to the Devaswom authorities
There the Melsanthi(chief priest) receives the Raja who then climbs up the holy steps and worships the Lord. At Sabarimala the Raja stays in the Rajamandapam at Malikappuram . Carrying his sword of authority , he goes to the Ayyappa shrine overseeing the various poojas and returns after receiving 'prasadam' from the Melsanthi. 'KalabhaAbhishekom' of Ayyappa deity is performed on 5th and 'guruthi' at Malikappuram on 6th of Makaram. The Raja also offers 'dakshina' to Thanthri, Melsanthi and others. After the 'guruthi', the Raja moves over to a room up Pathinettampadi. Next morning , he sets out for Pandalam , taking the Ornaments with him. Minutes before his departure, he comes to the sanctum sanctorum to take leave of the Lord. It is now an extremely emotional and moving scene when the Sannidhanam holds only the two : The Lord and the Raja of Pandalam ; even the chief priest moves out of sight, leaving the Raja alone to commune with the God. After a few minutes , the priest returns and seeks the permission of the Raja to close the Sreekovil for the season and then hands over the key to the Raja in a ritualistic gesture that re-establishes the rights of Pandalam Raja over the shrine at Sabarimala.
Best Viewed with Internet Explorer 4.0 or Netscape Navigator 4.5 or Above.
Unauthorized copying is strictly prohibited.